In Ukraine, it is planned to create a single system for electronic commerce of biofuels, which will then be approved by the legislative bodies.
According to the project, its operator has no right to carry out any operations with biofuel. Otherwise, the Department of State Energy Efficiency has the right to impose a fine on the offender.
The creation of such an exchange provides that a fifth of all leshozes involved in biofuel sales will use this system in their work. For this purpose, it is planned to assign to forestry the obligation to deliver chips to the nearest traffic junction, most of which will be used in the production of fuel.
This feature is inconvenient and unprofitable for the leshozes, because they will have additional transportation costs. The electronic exchange also proposes to prohibit the burning of a saber.
Full implementation of the system is expected within 5 years, and its use will become mandatory for owners of the "green" tariff. According to the plan, the bill will be introduced in early 2018, and approved in its second half. The system itself will be launched in 2019.
To date, TPP purchases fuel in the leshozes, which participate in the respective auctions every quarter. At the moment, in our country, trades are carried out at auctions in the case of wood sales. For public procurement there is a ProZorro system. In Ukraine, there are about 650 such exchanges, but they are inefficient, have low sales volumes, so they are not able to compete with the new system and will be forced to use it. G.Geleukha, CEO of the Bioenergy Association, notes that this system will help to regulate the price of the fuel market, as now there is a huge price gap – from 500 to 1500 UAH per ton of chips. The use of a similar system in Lithuania reduced the price of biofuels to 20%.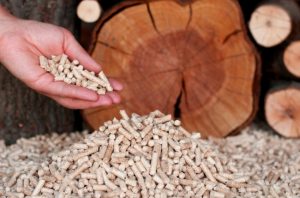 According to the Association, annual growth of up to 40% of biofuels and waste production and more than 25% in total primary energy supplies from these materials are noted.
The new Energy Strategy was approved at the end of the third quarter of 2017. It assumes a reduction in coal consumption with simultaneous increase in the consumption of alternative energy. Forecasts state that by 2035 these figures will be equal.