A resident of the village of Banilov, who is in Bukovina, has organized a new business – growing trout. It is interesting that, as a place for the organization of the economy, he chose a landfill. Levon Terteryan is an activist who is not concerned with the protection of nature in a joke.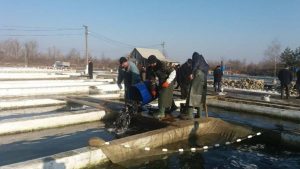 The entrepreneur cleansed from his rubbish his career, which for a long time served as a garbage for the local. Levon claims that such a place is ideal for breeding just a trout. The peasants initially were skeptical of the activist's plan, and now the trout economy became local pride.
Levon Terteryan notes that trout breeding is a rather labor-intensive process. Fish of this species require a lot of attention. They feed it 4 times a day (twice in the winter time), constantly calibrated and settled in different tanks, ensuring that there is only running water in the trout. The owner of a private enterprise also drew attention to the fact that domestic food of the proper quality is not present, so they buy it from the French and Polish manufacturers.
The entrepreneur currently breeds 7 varieties of trout. It should be noted that each fish is under the vigilant supervision of a fish farm for more than a year to go on sale. Earlier, Mr. Levon supplied about one hundred tons of trout annually to Ukraine. Now the activist drew special attention to the settlement of this fish surrounding rivers.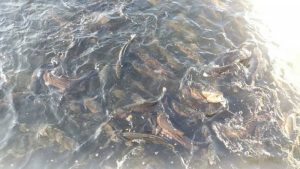 Levon Terteryan breeds fry and, when they are ready for an independent life, lets them out into open water. Thus the entrepreneur has already cleared the two rivers. It should be noted separately that such an environmental initiative is financed by an entrepreneur from his own pocket.
The head of the local community notes that the residents of the village are very grateful to the entrepreneur for his activities. Indeed, in our time, you will rarely meet a person who, from his own good impulses, will protect and protect nature, especially on such scale.
Levon Terterian prepares for himself a worthy change – two of his children went by his father and mastered the skill of fish protection activities in the higher educational establishments of Ukraine.