In Zhytomyr, an interesting project was launched – they started using ecological "currency". An app on the mobile device platform is created. He received the name "climatic drops". The bottom line is that the application gives people a reward for protecting the environment.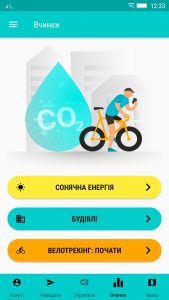 Implementation of this project takes place within the framework of energy saving, environmental care and reduction of the negative impact of greenhouse gas emissions on the environment.
One kilogram of harmful greenhouse gas emissions is СО2, according to the project rules, one climatic drop that has not got into the environment. Thanks to the launched project, each of its participants prevents more than 500 such climatic droplets from entering the atmosphere.
Creating climate drops is an opportunity not only for individuals. Legal entities can also take part in the project.
On November 28, employees of the Education Department of the Department of Economic Development of the City Council of Zhytomyr issued a climate drops award to representatives of nearly three dozen schools for their significant contribution to environmental protection and the prevention of the emission of greenhouse gases into the atmosphere.
The project operates as follows: actions contributing to environmental protection are tracked and awarded with points that can then be exchanged for bonuses, discounts and other enjoyable gifts in the network of project partners. The partners of the project are the Mandry Cafe, its Something Restaurant, and the windows and doors salon Okean.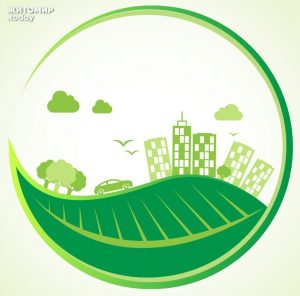 This ecological project is a unique phenomenon in Ukraine. In Zhytomyr, the idea of ​​rewarding people for their contribution to environmental protection was first realized.
The ecological currency is generated by saving energy consumption, as opposed to digital, whose production requires energy. For example, if you use a bicycle instead of a dangerous environment for transport, you can earn daily climatic drops on a cup of coffee or a cake in the cafe and thus combine the pleasures with the benefits – to reduce greenhouse emissions and have a delicious breakfast. And if you replace a light bulb with a light emitting diode that will save energy efficiently, you can earn climatic drops that will be enough for a discount when purchasing windows or plumbing.
This project operates thanks to the blockade and uses the Microsoft Azure servers. To participate in an environmental project and earn climatic drops, you need to install an application, register, and start contributing to environmental protection. According to calculations, next year the number of "green" participants will reach 100 thousand people, and the volume of environmental currency will be fifty million. This will mean that the amount of greenhouse gas emissions is reduced by fifty thousand tons.
The curators of the eco-project call on all those who are not concerned with the issue of environmental protection, as well as all ecologically conscious people, and enterprises of the city of Zhytomyr to cooperate and expand the program of loyalty.