A resident of the village of Bobritsa of the Kyiv region has become an example of environmental consciousness and financial literacy for Ukrainians. Konnov Sergey built a private SES for 10 kilowatts, conducted a thermo-modernization of housing and recently got an electric car.
The husband is a co-founder of the firm for rendering legal services. The idea of ​​preserving the environment became interested in Mr. Sergey 3 years ago.
The first step towards the development of alternative energy sources was the installation of photovoltaic modules. Sergey Konnov located on the roof of the house and the economic structures of forty solar panels.
Mr. Sergiy argues that he has been encouraged to develop alternative energy sources by modern tariffs for electricity. Electricity prices are rising very rapidly, but this was not the main factor behind the installation of solar panels.
The owner of the energy-efficient mansion notes that preserving nature is the main goal. In addition, a private SES is primarily a savings, additional earnings and a reasonable use of own funds.
Beginning in 2015, Mr. Sergey sells the energy produced by his solar power plant. The surplus turns out to be quite significant, so the owner of the estate has an annual income of just under 50 thousand hryvnia.
Sergey Konnov informed that SES cost him almost a quarter million hryvnias. One kilowatt of solar station costs about a thousand dollars. With the current earnings from the sale of electricity currently in existence, the payback period will be around six years.
In addition, the environmental activist is convinced that such investment is the most rational. SES allows you to make money, as opposed to a bank account, when it comes to using your own savings. Moreover, now, the state in every way contributes to the development of private enterprises, and thus obtain a profitable loan will not be a problem.
The care of the solar panels is to periodically clean them from dust and change the angle of inclination for greater productivity of their work. It should also be note that panels would work for about twenty years.
SES for Konnov Sergey became the impetus for further development of the ecological way of life. The second step in this difficult business was the purchase of an electric car. Next – insulation of housing, through which the owner began to noticeable saves gas, which has risen in price by almost seven times.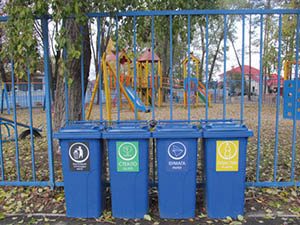 Mr. Sergey is currently taking part in a separate collection of household waste. Such an initiative left the community of Bobritsy and was fully support by the inhabitants.
The sorted garbage is delivery to special waste collection points. In the early stages, villagers paid for garbage payments themselves, but now such a need has disappeared.
In addition to everything, Mr. Sergey also installed light from LEDs. It should be note that the street lighting of the village Bobritsy – LED. The village council and representatives of the community are closely involved with this issue.