Lviv enterprise uses a complex of cleaning equipment, which uses biological methods of water purification. There are no analogues in Western Ukraine. This allows replacing more than seventy percent of the fuel needs of biogas from its own production. Biogas is produce thanks to the latest wastewater treatment technologies. In the near future, a full transition of the company to its own fuel is plan.
At the Lviv enterprise, we are convinced that investing in the environment, in particular, in this project, can be quite economically advantageous, and will allow not only to save, but also to reduce the negative impact of enterprises on the environment. Even at the beginning of two thousand years, the company began construction of modern treatment facilities, which in a few years allowed saving a lion's share of the cost of blue fuel. Given that the cost of blue fuel remains relevant for many businesses – the investment in this project was very promising.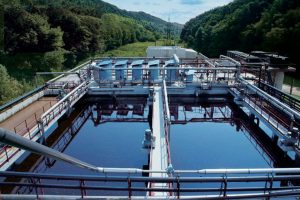 In addition to performing the function of cleaning own drains, which reduces the load on urban facilities, the company saves on blue fuel at the expense of its own energy source, moreover – ecological.
The cleaning facilities at the enterprise allow producing about seven thousand cubic meters of biogas per day, which allows replacing more than two thirds of the blue fuel needed for a full-fledged operation of the company. Thus, the company consumes considerably less of the blue fuel, and uses its own source of energy – this allows a fair amount of savings. There is also a cogeneration plant on the territory of the enterprise. When the volumes of own fuel will allow the company to provide an energy of one hundred percent – the management plans to use biogas for electricity.
The whole project cost more than eleven million euros, but savings from own fuel can be much higher. Therefore, next year it is plan to invest more than a million euros in the modernization of the refining equipment.
Testing of new membrane equipment has already begun, which will allow even more qualitative treatment of sewage, as well as increase the extraction of biogas.
Interestingly, the complex includes aerobic and anaerobic stages of water purification. We can say that on a scale, this is another plant in the enterprise