The process of installing solar panels in most cases involves many difficulties. This process was simplify to the impossibility of scientists from England. New solar panels called Roll-Array.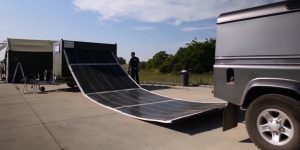 The newest development of English engineers is present in the form of an array, which includes high-efficiency photocells. The invention is lay on the surface as a carpet. Such solar panels are very flexible and supple. When transporting Roll-Array roll into a roll.
The idea of ​​creating panels belongs to the famous traveler John Hingley. The inventor wanted to create an alternative energy source that could be install in hard-to-reach regions. Now, its development has stirred up the minds of the scientific community.
A combination of copper-indium-gallium selenide (CIGS) would use to create the roll solar panels. These elements are fix on the surface of a strong fabric, which is the basis. It should be note that solar panels, thanks to this structure, could easily withstand many folds and deployments.
The creator of the roller panels asserts that the maximum power of his invention is achieve after just a couple of minutes after its location on the ground. John Hingley also notes that, in its essence, the installation is a special microscopic network in one package. Rolling solar panels can work without failures around the clock.
The system is able would quickly join the productive work thanks to the impressive area of ​​the panel itself. Hingli created a special steel container for transporting the roll-up panels. The solar installation has a length of 50 meters and unfolds in a few minutes.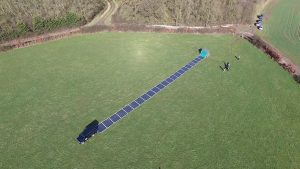 The inventor also said that his development could be use in the conditions of military operations, with the elimination of disasters after natural disasters, in carrying out various kinds of rescue activities.
In addition, roll solar panels could be use in those regions of the globe where it is impossible to conduct electricity. The list also includes the areas of research expeditions.
John Hingley drew attention to the fact that about a quarter of the world's population cannot use central power grids, and his invention will help solve this problem.
Innovative panels can be deploy easily with the presence of a car as an SUV. The creators say that their solar panels can produce about 100 kilowatts per hour of electricity. Such indicators are ten times higher than the productivity of the already existing alternative portable panel devices on the market.
The company-manufacturer at this stage reports that it is able to perform any meters of the device, precisely following the customer's requirements.
To date, the company Renovagen (manufacturing company) is working on a small number of private orders. Full-fledged production can be organize with the presence of certain enabling documents, which the company still needs to receive.
According to preliminary calculations, the price of innovative panels will vary between 70-150 thousand dollars.