Not all civilized society is the first year to strive to improve solar panels and make them more efficient and inexpensive. Many of the discoveries are already patent and are being actively produce. The CIS countries are not lagging behind Europe in this race, and our compatriots embody many innovations in the field of alternative energy in reality.
Representatives of Sevastopol University actively lead strong work on new developments. Most recently, it became know that a young scientist working at the Department of Renewable Energy Sources and Electrical Systems and Networks presented the world with the latest discovery in the field of solar energy.
The press service of the higher educational institution has published information that Pavel Kuznetsov has discovered an innovative device capable of taking out the maximum power of solar panels and coordinating photovoltaic modules. This opening makes it possible to increase the productivity of SES for the winter period.
The scientist noted that solar power plants in the autumn-winter and early spring are operating at reduced power due to the occurrence of partial eclipses. The period November-March is characterize by a drop in the shadow on the solar panels from below. Pavel Kuznetsov was able to invent a device that allows in the beginning of winter to increase the generation of energy from the sun to 75 percent (in comparison with the figures obtained without the use of an innovative method).
The method of the Sevastopol scientist is unique in that a complete conversion of the energy generated by solar panels is not required to align the modules themselves. Its volume is small enough, which is determined by the level of mismatch. Thus, the mass and overall characteristics and efficiency are noticeably improved.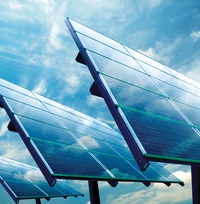 The experiments carried out, concerning the productivity of the invention, showed excellent results. Innovative device Kuznetsova can increase the production of electricity per day by almost 65 percent.
It should be note that to implement the device would require material investment, which does not exceed two percent of the total cost of SES. According to expert estimates, such an innovation in energy production will pay off in a total of 2-3 years. The timing may vary depending on the characteristics of the solar power plant and the duration of its operation in general.
The device has already been test at one of the SES Sevastopol. As a result, all declared qualities of the device were confirm in practice. The invention of Pavel Kuznetsov has already received an award at the international salon of innovative technologies called "New time". This event brought together scientists from more than thirty countries.