In Nikopol the beginning of the construction of the power plant, generating the energy of sunlight. The project will be full commission in 2017. Nikopol SES – the second object, the implementation of which provided the investment.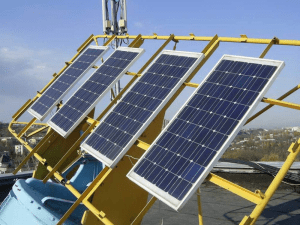 The new production will include more than 30 thousand solar panels. Nikopol SES will be one of the most productive facilities in the region, given that each of the existing solar panels will generate 10 MW of electricity during the day.
The Chairman of regional state administration Valentyn Reznichenko argues that the economy of the region at this stage, actively growing, thus attracting foreign investors and Ukrainian businesspersons. The first object in the Dnipropetrovsk region, built on the investment funds is Podgorodnenskiy SES. The third phase of the project "Solar Park Prigorodni" was open in the production year. The total budget amounted to more than UAH 20 million, which was provide by domestic investors. At this time the construction of analog – Nikopol SES. Such items received positive feedback and gained good reputation in Europe, because solar energy is inexhaustible and environmentally friendly.
Project implementation solar power plant in Nikopol in the firm "main Group Ukraine". For the construction of the new station bought 11 million euros of investment from France.
According to the head of Dnipropetrovsk regional state administration Valentine Reznichenko, such investment will help create jobs for the local population will significantly replenish the regional budget, will entail the regeneration of the surrounding area and will enable area residents to receive high quality power.
Part of the area of the Ferroalloy plant in Nikopol will be home to the new SES. Here for the construction of energy production is allocate about 15 hectares of land.
The Director of the contractor "Ehkotekhnik Nikopol" Zasyadvovk Yuri reports that the stage of the preparatory work is completed. All the necessary design and development are fully prepared and awaiting the commencement of construction works, which will start in mid-November.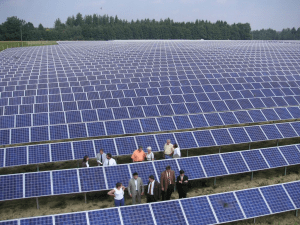 First it is planned to mount and to fix a special stand, and then install the panels. This production will give the opportunity for significant savings (about 1 million tons of coal in one year). In addition to saving Nikopol SES will bring many benefits to the ecology of the region, greatly reducing the number of harmful emissions. The construction of the facility according to preliminary estimates will take about six months. Time frames may vary depending on weather conditions.
In the development of the region's economy during the last 6 months has invested about $25 million Size of investment in the region amounted to more than $7 billion. About 90% of foreign investment came from Europe. Dnipropetrovsk oblast holds the first place in Ukraine by amount of investment.