In the near future, near Kiev, they plan to build a specific settlement, which will be calculate for some 50,000 inhabitants. The city will be completely energy independent and will not need centralized utilities. The company ElektroUkraine will carry out the implementation of this kind of projects in the territory of Ukraine. Currently, the company is part of the international group EST (ELECTRO SOLAR TECH), which actively develops and supports energy-efficient projects.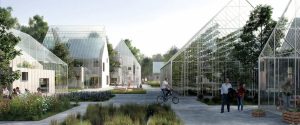 The representative of "ElectroUkraine" said that the start of construction is schedule for spring 2018. In addition, the executive director of the firm Tarasov Volodymyr said that the settlement will be not alone, but at least two.
Now, the company-developer has already acquired two land plots under non-energy-dependent settlements. One of them is located in the Boryspil direction, the other – in Zhytomyr. One settlement will be calculate for 260 households. Today, the company's representatives are designing housing, which area ranges from 40 to 160 meters square. The first houses are plant until the end of November next year. According to preliminary data, the cost of such housing will start at $ 25,000.
The company ElektroUkraine reported that residents of the innovative settlement would not pay utility bills. Volodymyr Tarasov highlighted the fact that the inhabitants of the non-energy-dependent settlement will be fully equipped with all necessary communications, but will not pay for the provision of centralized services.
The head of the developer company, Kravtsov Anatoly, noted that the newest settlement would be located on more than 4500 hectares of land. The main idea of ​​building such type of settlements is preservation of nature and life without utility payments. At this stage of the project implementation, a master plan for the further development of a non-energy-dependent town has already been establish.
At present, ElectroUkraine Company is engaged in the construction of SES near the capital. The power of the solar power plant will be 100 megawatts.
The director general of the company noted that the payback period of such production is 3-5 years. At the same time the warranty period of its work – not less than 25 years.
As an example, Andrei Kravtsov leads Chile. There, the local population for some time did not pay for electricity, because instead of expensive coal, they switched to the solar energy generated by the SES.