Utilities within our country are growing like mushrooms after rain, so ordinary people increasingly think about saving the family money and save it to electricity. Imagine life during the flame residents of cities is impossible, because the searches for alternative methods are activated every day. Solar panels and their incredible benefits for almost no surprise. Install solar power private use means not only to provide his family with cheap electricity, but also earn a surplus produced, providing for the "green" tariff in the overall network.
This option is ideal if the family lives in rural areas or in the private sector of the city. When it comes to apartment buildings, the installation of solar panels and their operation is quite problematic.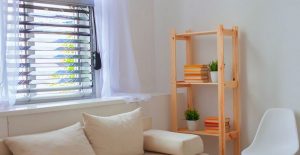 At the moment it became known that one of Ukrainian inventors created a special blinds on the windows, which allow the use of solar energy as a source of electricity in the conditions of a multistory building.
Eric Eugene described his invention SolarGaps. The approximate cost of one unit of the domestic energy source is three hundred dollars (installation included in price). One unit can produce about one hundred kilowatts of electricity during the month.
The principle of the invention is quite simple. Thanks to solar modules that make up the shutters, solar energy is converted into heat and electricity. Install the latest devices in the middle of the room, and the back of the box. Location on the outside can achieve 150 watts of power per 1 sq.m. If the blinds installed directly in the room, the capacity will be about 100 watts. Experts estimate that installing solar blinds in a three-room apartment, performance installation will be approximately 100 kilowatts per month. Such an outcome is possible if the apartment windows face south. The average for similar facilities quadrature power needed from 100 to 300 kilowatts a month. This figure depends on consumption. Thus, solar energy can provide blinds family 50-90 percent.
The inventor claims that the full transition from a centralized grid solar blinds need to be equipped with not less than 10 sq.m. windows. It is also the location of the house, because ideally windows have to go to the south side. It should also be noted that in the case of full autonomy from the mains need to get a battery and inverter.
Eugene Eric says that stopping work on his invention is going. In the near future inventor and his team – increasing the capacity of solar blinds and starting production.
Mr. Eugene currently needs 200 thousand dollars to start production of blinds. Are currently searching for investors and already are in talks with some foreign partners who are willing to finance the project. We hope that residents will soon rise buildings at SES private owners can use the sun's energy and save the family money.