Ukraine has a new startup, which offers to print "smart" homes in 3D format, which will allow owners do not connect with the grid. It is planned to use only solar energy. Such actions can be constructed in any place, and in the case of a transfer, it is possible to disassemble the carrier.
"Intelligent" building will be equipped with solar panels on the roof, off-line water pipeline, climate control system. It will be created wear-resistant materials for homes, which can be served at least 40 years and can be reused. These homes are created on a 3D printer.
Despite the fact that the new project looks like science fiction, but already 7 thousand people have ordered similar homes. To date, PassivDom (another name of the project) will be delivered in two versions:
The house has an area of 36 square meters.
The house has an area of ​​72 square meters, which represents 2 small modules in the house.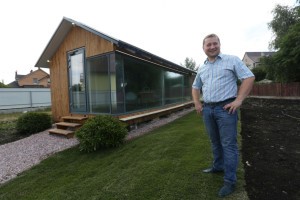 A small fully functioning home will cost 67 thousand dollars. The variant that connects to the electricity mains, water, and effluent disposal line cost 44 thousand dollars, and a small house without furniture, kitchen and bathroom cost only 33 thousand dollars. Large, self-contained, equipped house will cost 108 thousand dollars, without facilities – 85,3 thousand dollars.
Over the project, there are teams of 10 specialists, who use a 3D printer to create a frame of the house, roof, walls and other parts. CEO of the Project Maxim Gerbut convinced that building a similar home is much cheaper than traditional construction methods used. Maxim Gerbut has been studying the technology of "smart homes" for 15 years, so he is convinced that mechanization accelerates the construction process and makes it cheaper. It is worth noting that ordinary homes lose a lot of heat through seams. PassivDom has seams, which print the solid part and wall steel stronger in 6 times, as the wall uses the carbon-based material of that fiberglass. Such a house does not lose heat, which cannot but strike.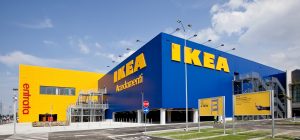 After that house is fully printing, it needs a lot of  accessories of the equipment, which is installed manually. The house has IKEA's furniture and access to air conditioning, heating, alarm systems and other systems is carried out using a regular smartphone.
Each part of the house is subject to recycling, the building is erected for a day. It is not necessary approvals for PassivDom, so you do not have to worry about issuing permissions. The house is completely energy-independent due to solar panels generating energy, and excess energy is stored in the battery.
PassivDom uses 20 times less energy than a normal home, that electricity will be enough for all consumer needs even in winter. In addition, if five people will live in one house, the house will be heated only by breathing.
The quality of the air in the house is regulated by the intellectual system of environmental control, the code of which was written to order. Sensors monitor controls level of oxygen and carbon dioxide in the home, as well as capture gases that are hazardous to human health. If you think, it is all that is not the case. "Intelligent" houses produce their own water from the air. This is possible due to the built-in reservoir for 1000 liters of water, as the way of condensation of moisture from the air is formed. The reservoir generates liters every 10-15 every day, but developers are keen to increase these figures.