During this year, 4 stations operating on the basis of biological gas were opened on our territory. Experts estimate that the total capacity of the objects is more than seven megawatts. It should be noted that in the dynamics of the introduction of alternative enterprises noticeable significant increase – more than 24 percent. In 2016, Ukraine had a bit more than 30 megawatts of capacity from biogas plants. Experts from the representatives of biogas enterprises distinguish the complex of the company "Ukraine-2001", the first stage of which has a capacity of just over five megawatts.
The leading positions in power among biogas enterprises is located on the territory of the "Myronivsky Hlibprodukt" complex. The power of this object is almost 5.7 megawatts.
However, the biogas station Astarta-Kyiv received the recognized championship on the territory of Ukraine. The work of the complex is aim not at the generation of electricity, but in the partial replacement of natural gas, which serves as fuel for various industrial processes. It should be note that at the same time the capacity of the complex is slightly less than 14 megawatts.
During the current year, the biogas station, located in the city of Theophilop on Khmelnytskyi, issued a green tariff. Other companies will be actively involved in this issue already in early 2018.
In turn, the biogas plants of the company "Elita" and "Sigma" are in the process of designing the "green" tariff.
According to experts, the registration of a green tariff for biogas plants covered 5 firms during the current year:
– "Danosha";
– "Сільгосппродукт";
– MHP;
– Avant-Garde;
– "Ukraine-2001".
At the end of last year, a biogas plant stationed in the territory of the agro-firm "Avangard" was putting into operation in Ukraine. Its power was more than three megawatts.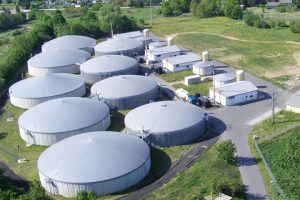 In addition, it became know that from the beginning of 2018, the launch of new biogas plants is plan. The capacity of these complexes will be estimate at around 18 megawatts.
17.5 megawatts of these capacities will be add to these capacities, which will be supplied by biogas complexes in "Danosha", "Gals-Agro", "MHP" and "Agroservice".
It should also be note that in the winter of the current year, the first in our country, the chemical laboratory of the company Ekoprode became the owner of the certificate. This document regulates its activity in the field of measurement of biogas production parameters.